My husband and I recently went to Fresno for the Hmong National Development (HND) Conference in early April. I presented on how to get in to pharmacy school with one of my students + Hmong Herbal Medicines. Send me a note if you are interested. It's always feels great to get re-energized. I left this conference feeling empowered and proud of being Hmong (Not to mention: a friendly reminder to  brush up on Hmong vocabulary). One of the most rewarding experiences was being part of the Health Forum and discussing recommendations with other healthcare professionals on Hmong Health to the HND Committee.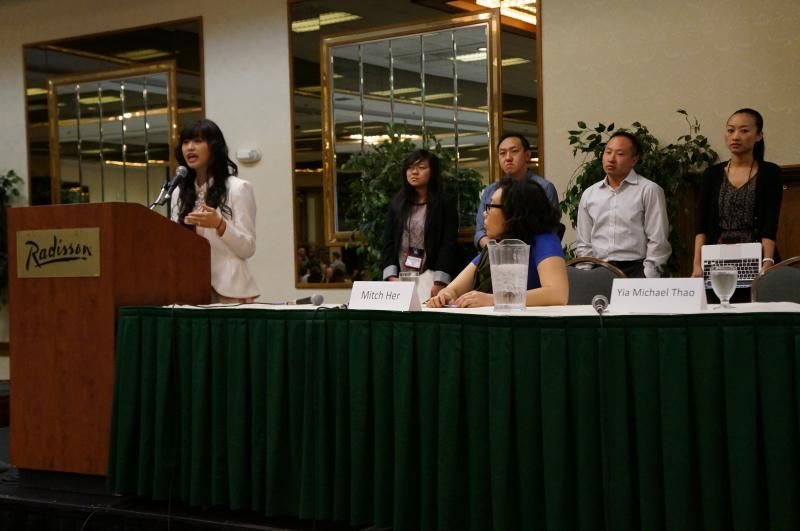 Here are some outfit ideas on what to wear for conferences. Instead of all black (which is a safe option), I opted for my mint + white peplum blazers from H&M for Spring-y feel. Of course, I couldn't forget my xauv 'Silver Hmong Necklace' into the mix.
1) Mint + Chevron
Chevron Printed Dress similar from Ruche here/ Mint Blazer similar from ThreadSence here/Black Opaque Tights/Black Zara Wedges similar from Aldos here
2) Royal Blue
Royal Blue Dress (Xgeneration Boutique – old) similar here/Grey Zara Cardigan/Studded H&M Nude Heels similar here/Kate Spade Tote
3) White + Pink
Pink H&M Dress with Collar Detail (Last Season) similar here/ White Blazer similar here/ Studded H&M Nude Heels
What is the history the 'xauv' pronounced 'sow'?
Some sources state that the Hmong were prisoners in China and wore the xauv for this purpose (see link). However, the xauv have become part of tradition and is given 3 days after a baby is born to protect their soul from wandering.  Now, these necklaces are worn during celebrations (i.e. weddings, Hmong New Year, etc.).
What sources do you have on the history of the Hmong xauv and how would you style it?
If you liked this post, you can see my previous posts on how I styled my 'xauv' for every day here, here and here.
Follow + Friend me on facebook, twitter and instagram!